Teen Pregnancy: Yaire and Mayra Talk with Teen Moms – Part 2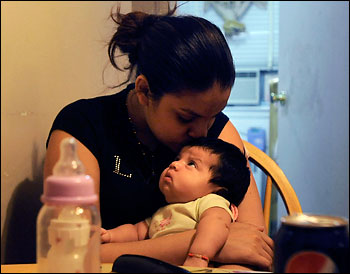 Teen journalists Myra and Yaire continue their conversation with teen moms Tatiana and Sonia.
HOST INTRO:  The number of babies born to teen mothers rose over the last ten years, and that's a problem, because it's hard to be a teen mother.  It's hard to finish school; it's hard to get a job or find community support.  That's what the experts generally say.
But what about the teen moms themselves?  Recently, student journalists from Casey Middle School in Boulder decided to find out, by talking with teen moms at Fairview High School's teen parenting program.  Yesterday, middle school students Mayra (MY-rah ROME-ez) and Yaire  (YAY-rhay.)  shared a meeting with two teen moms, who both became pregnant at 15. One of the moms, Sonia, told the Casey Journalists that her pregnancy was unexpected.  The other teen mom, Tatiana, said that she planned her pregnancy.  Both girls said that it was hard to break the news about their pregnancies to their own parents.  We pick up the story as Yaire talks with Tatiana about what it's like today, now that her daughter is 2 years old.  Yaire begins by asking Tatiana and Sonia whether their families are more supportive today.
(FEATURE DOES A SHORT RECAP OF PREVIOUS SEGMENT . . . AND THEN)
YAIRE
Is you guyses family supportive.
TATIANA
Mine is now, yeah.  They support me a lot.
SONIA
Yes.  My family is the only support that I have right now.  Besides Tatiana.
YAIRE
How are they supportive.
TATIANA
They just like help me with a lot of things sometimes.
YAIRE
Like with expenses and everything.
TATIANA
Not with expenses.  My baby's dad takes care of those.
SONIA
They buy everything for my daughter, cause her dad doesn't buy her anything.  So my mom and my sister buy everything for my daughter.
YAIRE
Are you guys still with the baby's dad.
TATIANA
I'm married to my baby's dad.
YAIRE (ASIDE TO AUDIENCE)
That's Tatiana talking.  She's lucky to have her baby's dad helping her out.
MAYRA (ASIDE TO AUDIENCE)
Then Sonia answered.
SONIA
I'm not.  It's been three months.  He left me.
YAIRE (ASIDE TO AUDIENCE)
I think when teen moms get pregnant, they think they're so in love, and they're going to be together forever.  When they get pregnant, reality catches up with them and they realize their boyfriend wasn't exactly what they said they would be, once they have the baby.
YAIRE (AT TEEN PARENTING PROGRAM, TALKING WITH TATIANA AND SONIA)
What have you given up since you guys got pregnant or had your baby.
TATIANA
I gave up a lot, like I gave up the life I used to live. Like  I used to party a lot.  I used to have like lot of friends.  And I gave up my car.
YAIRE
What have you guys gained.
TATIANA
I gained a husband, a daughter and a lot of support from everybody.  And I gained new friends.
SONIA
Well, because of my daughter, now I'm going to finish school, just for her.
TATIANA
Oh, yeah, I promised my daughter that I'd finish school as soon as she was born.
YAIRE (AT TEEN PARENTING PROGRAM, TO SONIA AND TATITANA)
Do you guys think everybody else looks at you as more mature, now that you have your babies.
TATIANA
My family, yeah, they look at me as a more mature person.  But the people here at school they just look at us like we're easy, like they can just talk stuff to us and we're not going to say anything.
EMBARRASSED LAUGHTER
BABY SOUNDS
YAIRE
What do you hope for you and your guys' babies future?
TATIANA
To get our own place and to have a better life than what I lived.  Cause I didn't really have anything when I was growing up, and then I met my baby's dad.  I got the world handed to me.
MYRA
She got the world handed to her?
YAIRE
I'm thinking that her baby's dad is someone really special to her.  Someone that she really loves.
SONIA
Well, I'm going to be the mom I always wish I wanted, cause my mom was never there for me, oh, and a dad cause I never had my dad either.
What do you guys suggest for girls who want to get pregnant.
TATIANA
If you want to get pregnant, make sure the guy can actually support you financially and emotionally, because there's guys out there that will get you pregnant, say they want you to have their baby, and then they leave you.
SONIA
Make sure you're ready for it too, cause it's really hard.
YAIRE
Do you both have girls?
TATIANA SONIA
Yeah
YAIRE
Right now, if they were listening to this . . . If they were a little older, would you want them to be in the same position as you, having a kid as a teenager?
TATIANA
I don't think I'd want to see my daughter in this position.  But If it happened, I'd try to be there more for her.
SONIA
I wouldn't want her to be in it, but if it does, it happened . . . that's what happened to me!
FADE  UP BABY SOUNDS THEN FADE DOWN.  FADE UP TO SOFT "LULLABY MUSIC"
MAYRA (ASIDE TO AUDIENCE)
I want to have babies when I'm old.  But not now.  When I'm 20 something.  Not now, when I'm 14.
YAIRE (ASIDE TO AUDIENCE)
It would be nice to have a family.  But financially and emotionally and everything else, It'd be really hard.
That's why you get prepared for it first.  Do I have a space for it.  Do I have enough money to buy what it needs.  You're not going to have a baby out of the random.
You never know, Mayra.
You're not going to have a baby out of the random.
For me, I don't want to have a kid, because how it sounds, it's really hard.
For Casey Middle School, and KGNU, This is Mayra.  And this is Yaire.
5:30 or 5:40
MUSIC FADE BACK UP AND BABY SOUNDS FADE BACK UP.
HOST OUTRO:  You've been listening to middle school students talking with teenage moms.  This story was produced with the help of KGNU's Shelley Schlender, and Casey Journalism teacher Lee Lazar, and through funding by Boulder's Youth Opportunities Program.  Special thanks to teen moms Tatiana and Sonia for sharing their stories, and to Casey middle school reporters Mayra (MY-rah) and Yaire  (YAY-rhay)
Tune in Thursday morning, for a call-in show on teen pregnancy and parenting featuring the whole team of teen journalists at Casey Middle School who have been working on the topic of teen pregnancy and parenting, along with Boulder Teen Clinic Director Danielle Watters, Casey Middle School Psychlogist Carla Freidli, and Boulder County Health expert on teen pregnancy prevention and teen parenting assistance, Jody Scanlon.  That's this Thursday morning, a call-in show on teen pregnancy and teen parenting.