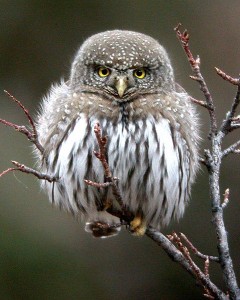 "The owl piece was literally one of those moments (I was getting out of the shower – I had it on loud – and stopped, stock still) : he was talking about his friend who took him into the forest and his mother and the owls being 20 ft away and how they needed to leave to respect the owl's place. Wonderful!" – Claudia
Every month, Boulder naturalists Steve Jones and Ruth Carol Cushman and I go out to record what's happening in the natural world.  Sometimes we tromp around for several hours, talking about nature and listening for sounds of it.  Then I take the recordings and produce a 3- to 4-minute sound story of the experience to share on KGNU.  There's also a Nature Almanac Archive at the Boulder County Nature Association Website.  It goes back to the year 2000 or so, with experiences out in the natural world.
Here's a recent favorite as Steve Jones and Ruth Carol Cushman go out at dark with another naturalist, looking for Pygmy Owls.