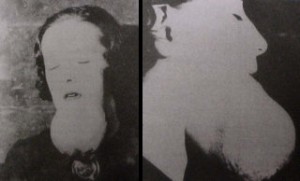 When astrophysicist Cliff Stoll decided to check his house for radioactivity, he didn't expect the most radioactive hazard to be in a little cardboard box that dated back to the 1920s.  This story first broadcast on the KGNU Science Show, How on Earth.
Listen to The Radium Girls (12 minutes)
Cliff Stoll is an astrophycist in Oakland California and author of The Cuckoo's Egg: Tracking a Spy Through the Maze of Computer Espionage.  Eleanor Swanson is a professor at Regis University in Denver.  Her poem about the radium girls appears in her book,  A Thousand Bonds:  Marie Curie and the Discovery of Radium.
Here are listener comments about The Radium Girls:
". . . What an incredible piece of journalism!  Shelley has done it again. . . .  I just love to listen to her stuff."
". . . I always enjoy Shelley Schlender's work and wanted to call today to tell you guys how much I really enjoyed the Radium Girls.  . . .  Shelley's piece was riveting."