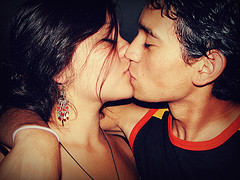 Listen (4 minutes)
Before interviewing teen moms, the Casey Middle School students talked together about teens, sex and parenting, with their journalism teacher, Lee Lazar, and with their school psychologist, Carla Friedli.
Full Text:
Host Intro: Every four hours a baby is born to a Colorado teen.  Studies indicate that teen mothers are less likely to complete high school, more likely to be single parents, and more likely to live in poverty than other teens.  May is National Teen Pregnancy Prevention Month, and as part of this, teen journalists at Casey Middle School have been looking at the issue of Teen Pregnancy and Parenting.  We're sharing their stories during KGNU's Morning Magazine this week.
And on Thursday, at 8:35, we'll have a call-in show, hosted by the teens.  Their guests will be Casey Middle School psychologist Carla Friedli, Boulder Teen Clinic Director Danielle Watters, and Boulder County's Teen Parenting Support Director, Jody Scanlon.  And now, here's another look at teen pregnancy, from the Casey Middle School Journalists.
I'm Alix, and I'm Natalie, and we're from Casey Middle School.  Today is part of a special that we're doing this week on teen pregnancy.  As part of this project, we went to the Teen Parenting Program at Fairview High School, but before that, we got ready for it.  We practiced asking questions with our Casey Middle School counselor, Carla Friedli:
CARLA
So these are the interview questions that we came up with.  Do one of you want to read them out loud and we'll see if they still feel relevant?
Natalie read the questions.
TEAM MEMBER 1
How old were you when you got pregnant?  Was this a planned pregnancy?  What was your experience when you told your parents?  What have you given up since you got pregnant?  What have you gained?
TEAM MEMBER 2
Are there going to be any girls there who gave their baby up for adoption?
CARLA
No.  This program is for girls who are parenting or are getting ready to be parents.  And they have a daycare for the children there.  So, we could ask if we could meet their babies.
EVERYBODY
Oh, I like babies!  I want to meet the babies.  They're so cute.  Yeah!
Alix had a question about the babies' fathers, and she asked if they're going to be there, and Carla said, no, they're usually not part of the baby's life.
EVERYBODY.
The baby's father could still help with the baby.
Yeah.  Even if they're not together, he could still be involved in the kid's life.
Does the dad help?
Or is the dad involved with the kid?
We also had questions about abortion.  Here's what our school counselor told us.
CARLA
How about if we feel it out?  How about those kinds of questions – have you ever considered other options besides being the mom? In this world, if you're pregnant, you don't necessarily have to give birth.
Naturally, since we were talking about pregnancy, we had questions about sexuality.  A lot of people don't take sex ed seriously, but the reality is, if you don't, then you could end up being a teen parent.  We know this from personal experience, because last year, two girls at Casey got pregnant.
TEAM MEMBER 1
Eighth grade is the most important year.  You go to high school next year.
TEAM MEMBER 2
You're going to be presented with a lot more things, about, like getting pregnant and drugs.  And if you can't learn about that now .  . . .
TEAM MEMBER 1
More peer pressure in high school.
TEAM MEMBER 2
So I think we should have a couple of days where we have a workshop, because it's so important.
TEAM MEMBER 3
Everybody loses their virginity in high school.
CARLA
Say that again?
TEAM MEMBER 3
Everybody loses their virginity in high school.
CARLA
Mayra, your eyes went like this.  So I want to give you a little reality check.  Fifty percent of the people in high school, or more, so 50, 51, are not sexually active at all.
EVERYBODY
Really?
CARLA
That means half.  So in this room, for girls, it means have of you may, half of you are not likely to.  So that's why we need health, so that you know that half the kids choose not to.
TEAM MEMBER 2
I think that some people are going to think that everybody loses their virginity in high school, then, like, they have to.
CARLA
So it's just a matter of when and who.  Alix, did you think that everybody loses their virginity in high school?
TEAM MEMBER 2
No.  I thought a high percentage did.
TEAM MEMBER 1
I thought it was 75%of people  did.
CARLA
Do you guys know about Teen Clinic?
I do some trips to Teen Clinic.  Teen Clinic is a fabulous place.  They have all the resources, and that's where I get all my information. It's completely free and they offer wonderful services to young people on days that are just for teens.  So you can go in there and talk about anything to do with sexuality.  And for kids who are thinking of becoming sexually active, it's a great place to go before hand.
TEAM MEMBER 4
And they won't tell your parents.
CARLA
No.  It's actually a right that you have.  You can have birth control as young as 11 years old.
Thanks for listening to this segment.  Stay tuned for the rest of this week.  We'll be talking more about teen pregnancy and parenting.  For KGNU, I'm Natalie, and I'm Alix.
HOST CONCLUSION:  Tune into the morning magazine all this week for more stories from the teen journalists.  And on Thursday morning at 8:35, for their call-in show.  Special thanks to Casey Journalism teacher Lee Lazar, and to KGNU's Shelley Schlender for producing this series.